Friday was a big enough Bear Surprise Bar to make a second leg sideways to down likely, even after yesterday's bull bar.
Yesterday was a bull bar, which is disappointing follow-through for the bears. This reduces the chance that the selloff will become a bear trend.
Today has traded below yesterday's low, which triggered a Low 1 sell signal. But yesterday was a bull day and therefore a weak sell signal bar.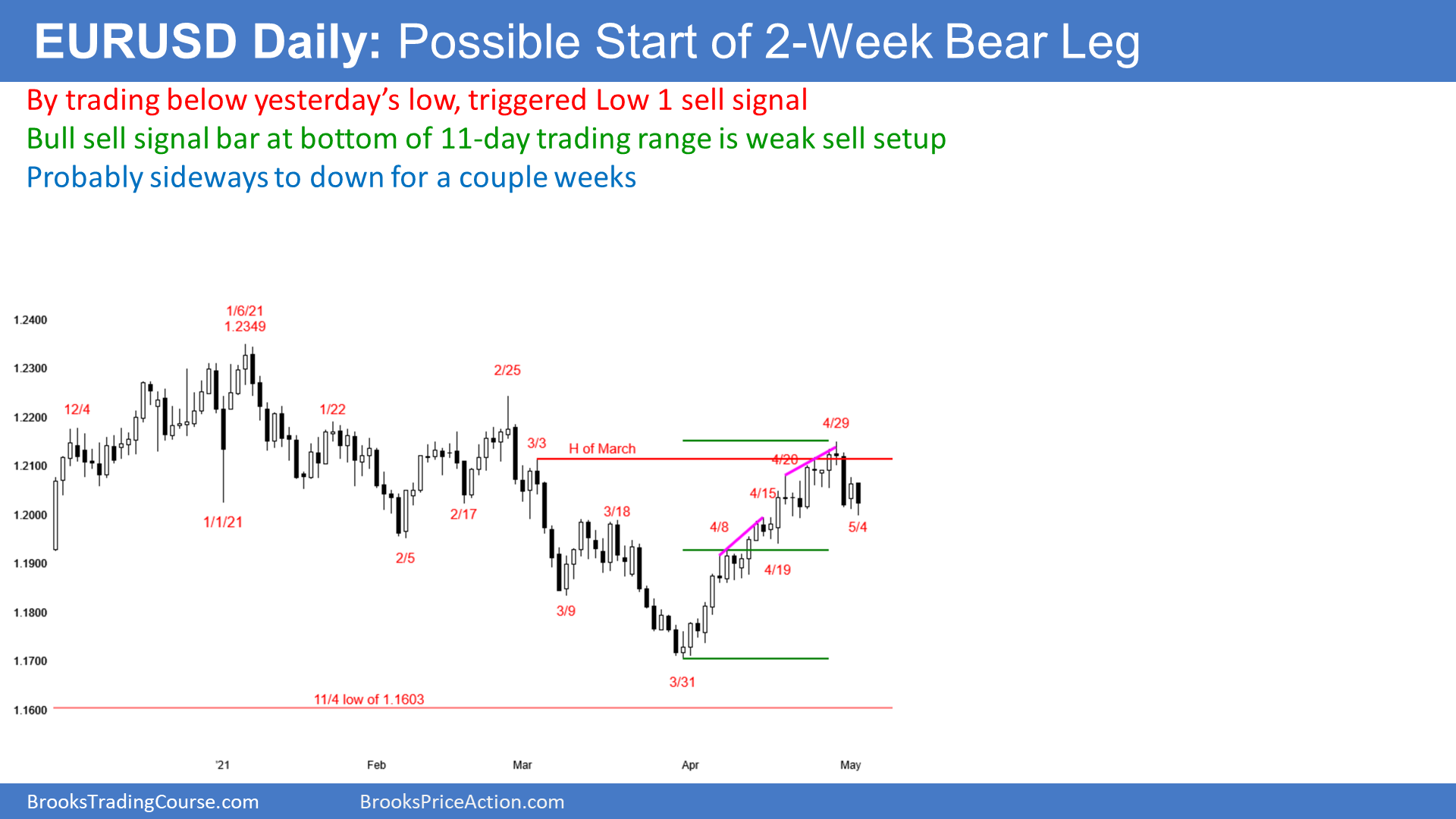 Since today traded down, it met the goal of at least a small seconf leg sideways to down. Bears want more selling to at least midpoint of April rally.
Today traded below last week's low, so also triggered sell signal on weekly chart.
But after 3 strong weeks, selloff will probably be minor. That means a couple weeks sideways to down.
Bottom of 11-day trading range.
Bulls want reversal up today or tomorrow, which would be a micro double bottom at bottom of 11-day trading range.
4-week rally was extreme, so probably will trade sideways to down for a couple weeks.
Overnight EUR/USD Forex trading on 5-minute chart
Sold off overnight to below yesterday's low and last week's low, triggering daily and weekly sell signals.
Barely triggered the sell signals, and then reversed up for the past couple hours.
The rally has been more than 20 pips and it has been in a tight bull channel. It is strong enough so that bull day traders will look to buy pullbacks for scalps.
Overnight selloff was a Small Pullback Bear Trend. Therefore the 2-hour rally is probably going to be minor. That means there should be a test down within a couple hours. Bears will therefore sell rallies.
With bulls buying reversals up for scalps, and bears looking to sell a resumption down for a scalp, EUR/USD should be in a trading range for at least a couple hours. It will probably be in a trading range for the rest of the day.
The bears will try to get trend resumption down. But that is unlikely after a good reversal up from support.
The bulls will try to get a trend reversal up, which is unlikely after a Small Pullback Bear Trend that lasted many hour.