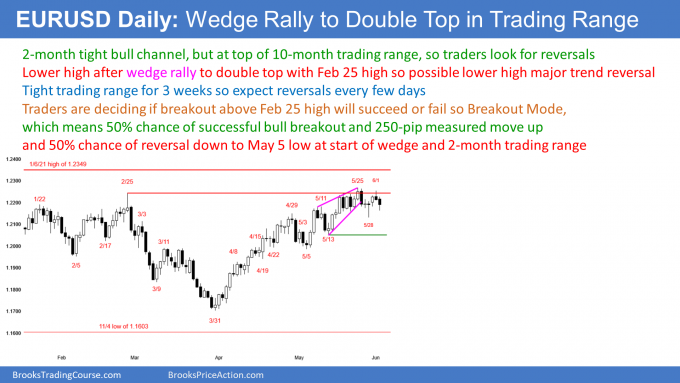 On the chart:
– Three-week tight trading range nested within a three-month trading range, which is nested within five-year trading range. Traders continue to look for reversals on daily, weekly and monthly charts.
– Yesterday was sell signal bar for lower high reversal, but the pattern from the May 25 high was small and, therefore, traders expect only a minor reversal.
– Today triggered the lower high sell signal, but it is a reversal within a three-week trading range, and it is more likely to last only one to three days.
– The bears want a reversal down from a wedge rally to a double top on the daily chart, but the EURUSD continues to reverse every few days.
– Traders will continue to look for reversals until there are at least a couple consecutive trend bars in either direction, and a breakout of the three-week tight trading range.
Overnight EUR/USD Trading On 5-Minute Chart
– Sold off in a strong bear trend overnight. By going below yesterday's low, today triggered a sell signal on the daily chart.
– Once the selloff got to the bottom half of the three-week range, it reversed up about an hour ago.
– The reversal up has been about 25 pips. That is enough for traders to expect the overnight bear trend to convert into a trading range. The odds are now against much lower prices today.
– Big down, big up creates big confusion. That typically leads to a trading range.
– Day traders will switch to selling rallies, and scalping from selling at the market and swing trading.
– They will also now buy dips for scalps.
– Trading range likely for at least a couple hours.
– The fight will be over the mid-point of the day's range and the open of the week. It will probably be about the middle of the developing trading range.