[ad_1]

After a big bull breakout on Thursday, there was an even bigger reversal down on Friday for . Thursday was therefore a bull trap. It was also a second failed attempt to get back above the Aug. 19 low.
On the weekly chart, EUR/USD traded last week above the high of the prior week and then below the low. It was therefore an outside down week. However, it had a prominent tail below the low which was above the low from 2 weeks ago. This is less bearish than it could have been. Since there is a 4-bar tight trading range, there is an increased chance of more sideways trading this week.
The monthly chart has October as the third consecutive bear bar. However, it had a small body and closed a fraction of a pip above the September low. It, too, was therefore less bearish than it could have been. I have been saying for several weeks that EUR/USD should fall below either the Mar. 9, 2020 high or the June 10, 2020 high. Friday increased the chance that it will happen within a couple weeks.
EUR/USD has been in a trading range for 7 years. Those 2 highs were breakout points for last year's strong rally. When a market is in a trading range and it gets near support or resistance, it usually goes beyond it before reversing. That is the reason why I have written repeatedly that the the pair should fall to 1.15 or possibly 1.14. 
However, last year's rally was very strong, and it was stronger than the current reversal down from the May high. That makes it likely that the selloff is just a big pullback from last year's rally. Therefore, there should soon be a reversal up lasting at least several weeks, and it might reach the Sept. 3 high. It should begin after a dip below one or both of those breakout points, but the reversal up can begin at any time.
Of course, there is always at least a 40% chance that the opposite of what is likely will happen. Consequently, there is about a 40% chance that the selloff will continue down to near the bottom of the 7-year trading range. If the bears get consecutive bear bars closing near their lows and below the June 10, 2020 high, the odds of the selloff continuing to near last year's low will be more than 50%.
At the moment, EUR/USD will probably fall to 1.15 or 1.14 within a few weeks, but then try to reverse up.
The bears need follow-through selling within a few days. If they do not get it, Friday will be just a sell vacuum test of the Oct. 12 low and a bear trap, and the bulls will try to get a reversal up from a higher low major trend reversal. A measured move up above the Oct. 28 high, which is the neck line of the double bottom, would be almost to the Sept. 3 high.  A measured move down would be below the June 10, 2020 high.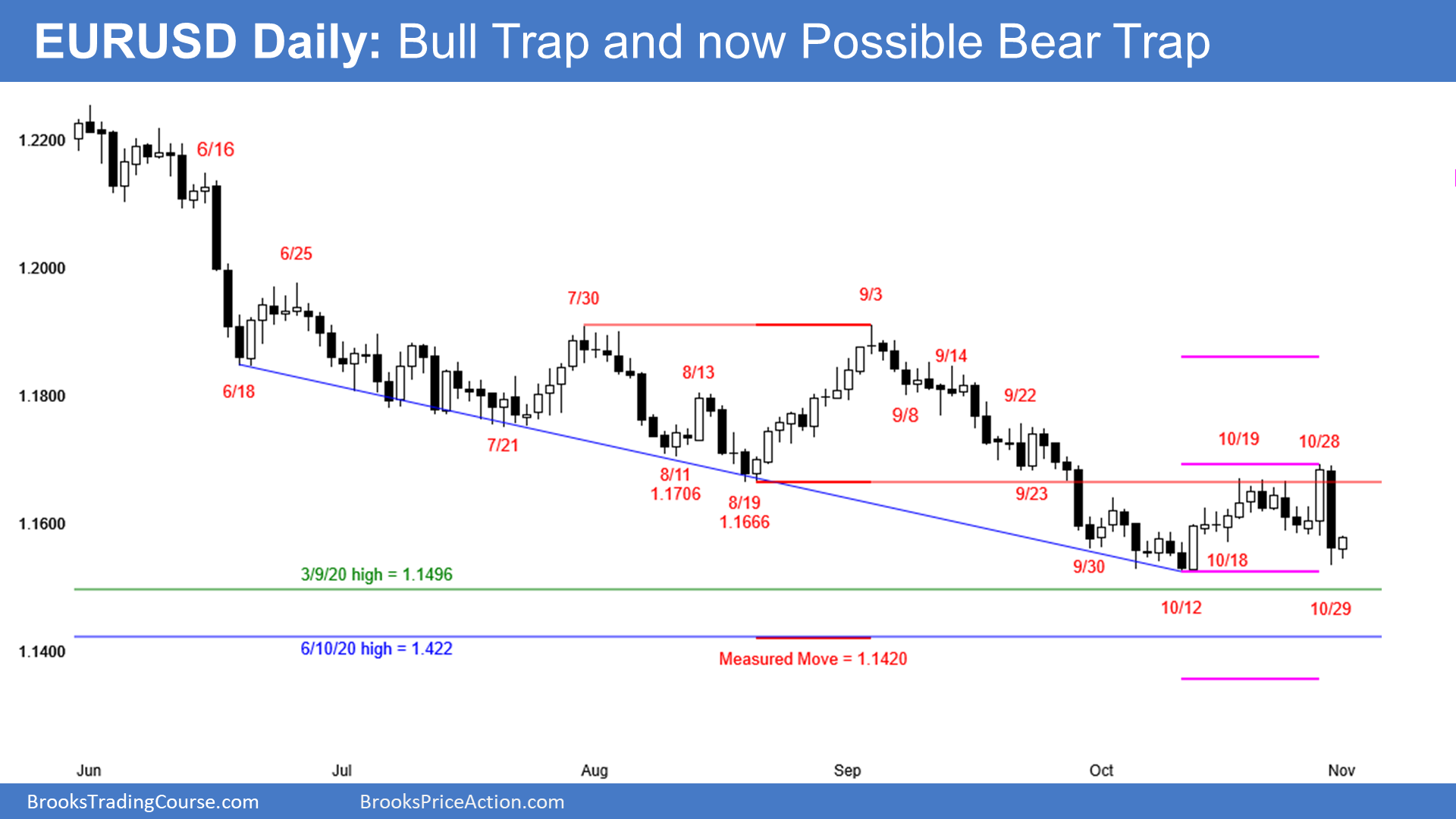 Promotions and Bonuses


[ad_2]

Read more here