Recent reports have it that Jeff Bezos will be stepping down as AMAZON CEO. This is after being at the helm of the online retail giant for almost three decades. What could this mean for the company stock price?
Weekly time frame Elliott Wave view on Amazon suggetss that we are currently in wave (1) of ((5)). This was after the stock corrected 3550.97 wave ((3)) peak  with  a triangle. Price breaking above (D) and  the upper triange boundary fortifies the possibility of more upside. If this view is correct, and wave ((4))  has indeed ended as triangle after reaching 3084.20. We should expect the stock to clear wave ((3)) highs soon, as it paces up for ((5)). It is noteworthy, however that wave ((5) may become an   ending diagonal .Or it could become a pacey 5 wave impulse. This would still be valid either way it turns out. With an end of  long term rally nigh and  in sight for AMAZON, wave ((5)) is expected to be followed by an equally thumb-twiddling riddled correction for IV, before final thrust in V can be seen.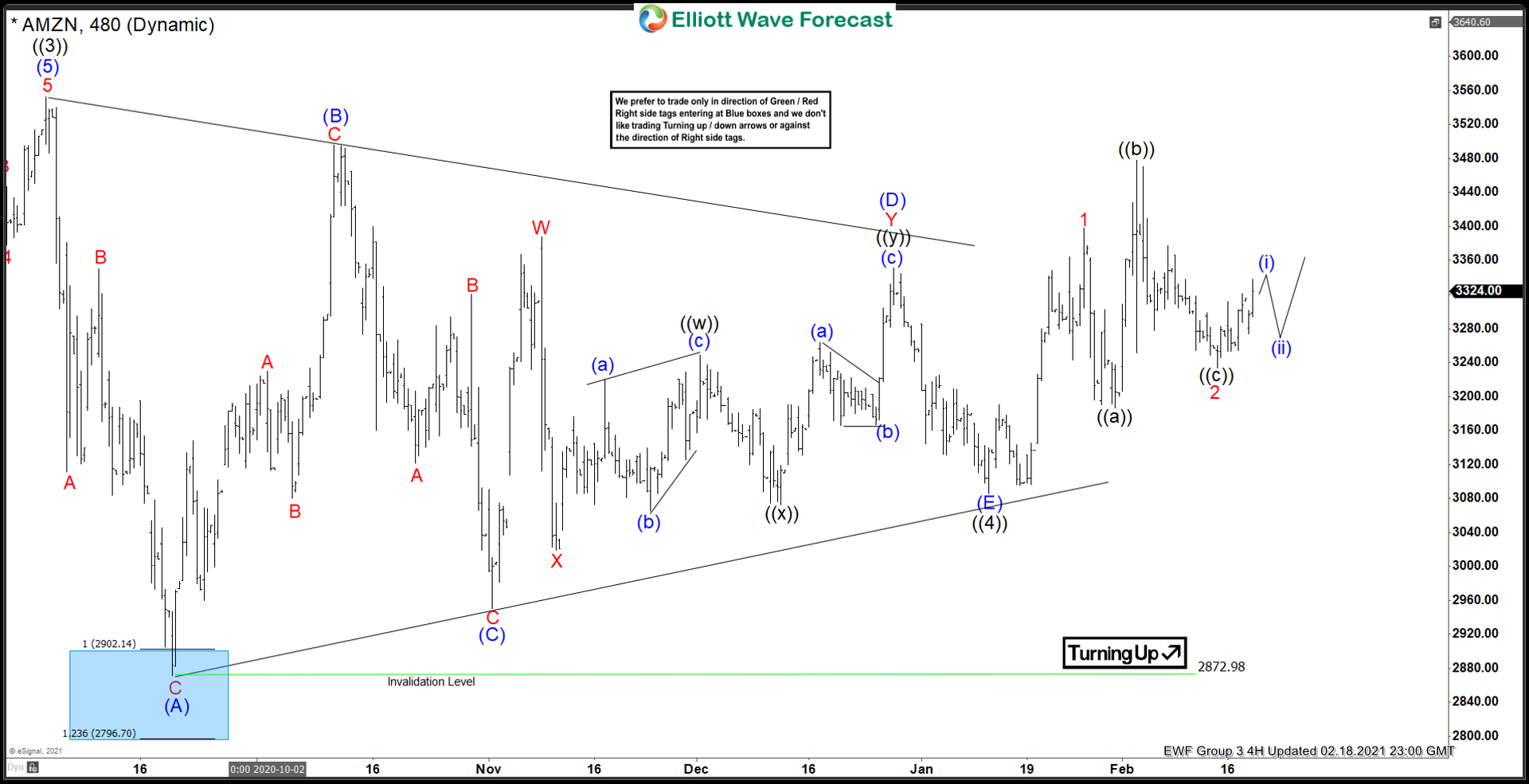 The 4 hourly chart above shows us that the stock is turning up against 2872.98 September 21,2020 low. As one can see,  short term Elliott Wave view suggesting that wave 1 completed after touching 3414. We propose Wave 2 to have completed at 3234.85. We believe it is currently in 3. A move lower than 3234.85 would sets wave 2 lower. Therefore,  wave 2  can find support above 3182.64. This is where we wave 1 favor to have started. More upside should follow in wave 3.We expect wave 3  expect to reach 3525.33 or higher. Naturally, we expect a correction in 4 to follow  before more upside in 5 of ((5)) . As bulls get exhausted and lose some momentum in ((5)), one can expect confirmatory momentum divergence as buyers prepare to take profits and as sellers begin to emerge.
Wanto To Learn more about Elliottwave? Try our 14 Day Free Trial today!!!!